Rahul Dravid, the teacher
An ode to the gentleman on his 40th birthday
I watched cartoons. I cared a damn about cricket. What's the point of dressing up in whites, sweating hard for five days and still get no result? Yet one afternoon the cynic in me gave in.  My dad believed in miracles. He said India would win and keep themselves alive in the series. The miracle happened, India won. It was the 2001 Kolkata Test.
But India's tremendous comeback win is not the story I want to tell.  The hero of my tale is Rahul Dravid. The moment Dravid reached his ton, the moment he fiercely pointed his bat towards the press box where questions had been raised about his place in the team, that very moment I fell for the Bangalorean.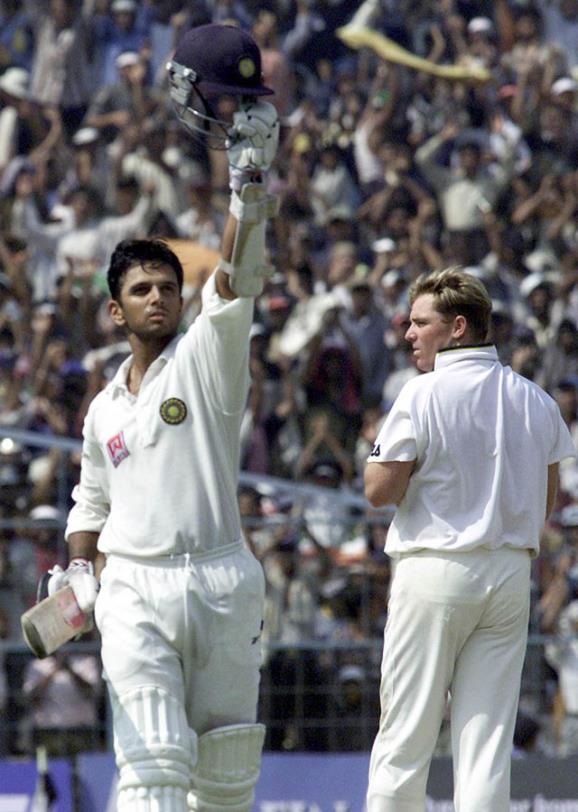 That day was a beginning of a lifetime of lessons.
With the passage of time, I learnt, apart from the rare gesture, nothing that afternoon was just out of the blue. The man has a habit of sucking the life out of the opposition's attack. He did that in a far more dignified manner though. And sure, there were no pompous celebrations. Actually, there was one.
Life came full circle for Dravid with the century at Lord's, months before he hung up his boots. A milestone that he missed out by a whisker 15 years ago on debut, was eventually pulled off in his final Test at the same venue. For sure the landmark wasn't his priority, and yet there was a rare celebration with a hint of satisfaction of having completed a task pending for years. Defeat or inability should serve as a motivation to scale greater heights, I inferred.  
After an unimpressive ODI debut series, he was sidelined as a 'Test Match Specialist'. Dravid was picked and dropped at the whims and fancies of Indian selectors. Undeterred by criticism, he worked out his flaws, overcame his technical limitations and got back stronger and more determined. Little over ten years that Dravid spent in the shorter format of the game, he went on to become the mainstay of India's middle order despite the presence of flamboyant Tendulkars, Gangulys and Sehwags. There is no substitute to hardwork, I understood.
For me, Dravid wasn't just a number three batsman or the best number three among his peers. There was more to Dravid than his skills with the willow. He was an all-rounder. Batting, extraordinary fielding, wicket-keeping, opening, captaincy, he has done it all for his Team. Heck, he picked up few wickets too. You will never know what you are capable of unless you try out things.
Dravid donned the wicket-keeping gloves in the interest of his team, a thankless job that he carried on for years without any tantrums, so that India could accommodate an extra batsman. The team looked up to him to fill in as an opener in desperate situations. He always said catches in slip aren't easy. But the man greeting them was tougher, I believe.
Dravid faced media's and those self-proclaimed arm-chair experts' wraths for his decision to declare when Sachin was six short of a double hundred in Pakistan. A decision taken in the best interests of the team seemed selfish to many. But if you know Dravid, you would conclude the man was driven by his desire to achieve and excel, not by the desire to prove himself better than the rest.
In a nation obsessed with Sachin Tendulkar, the focus shifted to this man only in crisis situations. His on-field pursuits can easily make a bestseller. Add to it, his aura, and the man's simplicity in today's celeb-circus. Despite all the success, fame and money, his persona remains as flawless as his technique.
He might have finished as the second best after Sachin, but those numbers don't paint the complete picture. His value to the team could never be penned in words for there is no payback for those minutes and hours he spent in the scorching heat or chilly mornings, abstaining himself from flamboyant stroke play.
Dravid earned several pseudonyms, Mr. Reliable for he became India's go-to man when all else failed. Fans called him The Wall, a name he disapproved of, for his sound technique and defence which not only shielded Team India from several defeats but also scripted some of the most remarkable victories.
Friends called him Jammy, for his father worked in well-known jam company, but none other than his foes could better understand how symbolic the name was for the man who would stick to the crease, wagging a lone battle, minute after minute, hour after hour to bail India out of trouble.
Detaching himself from the game, Dravid said, "I've failed at times, but I never stopped trying". Not many, certainly not the ones who are as celebrated as Dravid, can master the will to go that extra mile. He certainly was aggressive, in his own way. With his retirement, the gentleman's game was deprived of its true ambassador.
Dravid you shall not be missed, but remembered and respected forever!
Purnima Malhotra
Smitten by Rahul Dravid, Purnima got hooked on to cricket at an early age of 10. She tried her hand at as many as six different games but excelled only at guarding the goal post. She hates to admit that all good things come to an end, for that means even Federer will retire, someday. Cooking is a stress buster for her and she admires Robin Cook's medical thrillers.